Envig Drinking Water Faucet with Integrated Ultraviolet UV LED Purifier - Perfect for 800GPD RO System
Envig ultraviolet UVC LED faucet can be used along with most under sink reverseosmosis (RO) or other water filters, adding an extra layer of protection to your drinking water.
Regular price
$279.00 USD
Regular price
Sale price
$279.00 USD
Unit price
per
Sale
Sold out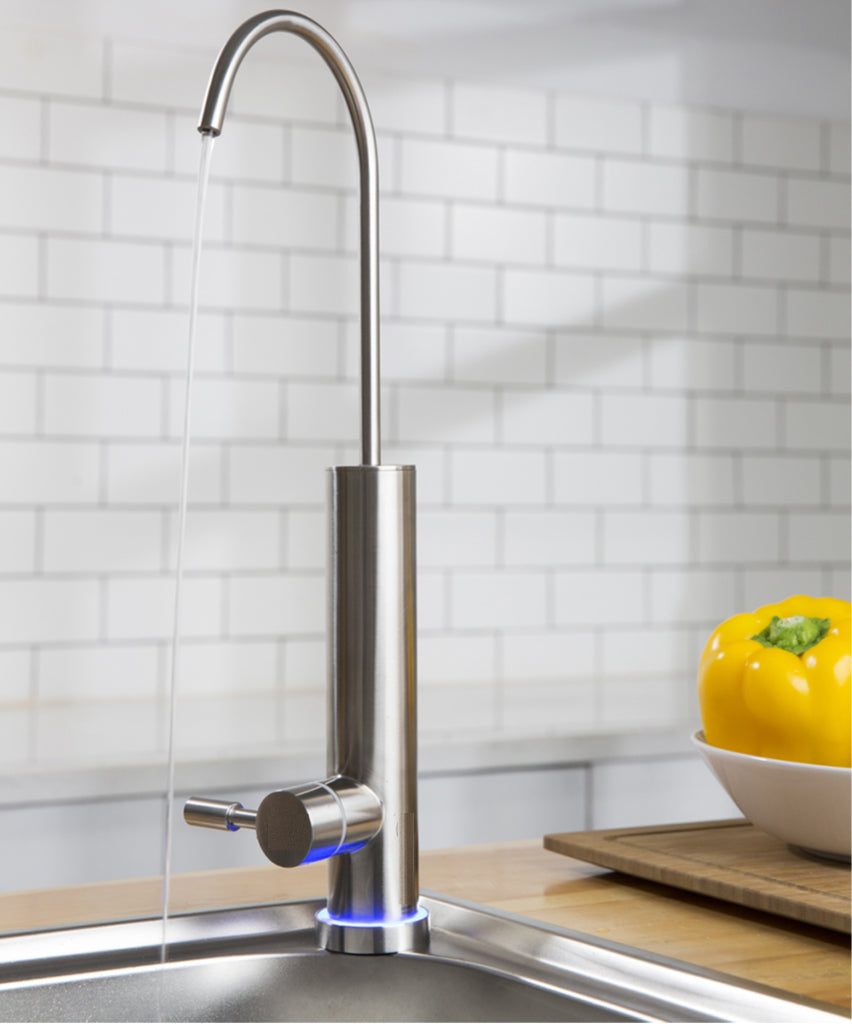 Long lasting powerful protection against second degree contamination
Second degree contamination from your RO system
It is known that bacteria can grow quickly in a RO tank or an activated carbon filter. The slimy bacteria contamination undermine the benefit of a water filtration system and may jepordize your health. This UVC LED faucet works with your under sink reverse osmosis (RO) or other water filter systems through 1/4" quick connect. It kills the bacteria and adds an extra layer of protection effectively right before drinking.
Powerful disinfection
Two powerful UV LED diodes made by leading US brand are integrated into the faucet. At 100mW, the 265nm wavelength is tested by SGS lab to kill bacteria and virus like E. Coli and H1N1, etc at four logs of efficacy. The RGB indicator at the base of the faucet gives you the peace of mind to know the status of disinfection.
Long lasting usage
With the assumption of three to four gallons of drinking water a day for a family of four, the rated disinfection water volume of 47,500 gallons, thanks to the smart flow control technology, will last you many years to come. There is no consumables and no need of light replacement. The cost of a few cents a day for clear, bateria free drinking water is an easy investment.
Integrated Features
800GPD Fast Flow

Quest your thirst with no delay at 800 GPD flow rate. Works perfectly with your existing RO or other water filtration systems.

Smart Flow Switch

Smart flow switch delivers long lasting usage while preserving energy. The water cooling mechanism prevents any UV LED overheat.

RGB Inficator

The RGB indicator on the faucet base will give you the peace of mind about the working status of the disinfection.
Specifications
Rated Disinfection Water Volume
What's included
UVC faucet (UVC faucet body x 1 + curved faucet pipe x 1) x 1
Power adapter x 1
Cable seperator x 1
Lock screw cap x 1
Quick connector x 1
Lock clips x 3
Instruction manual x 1 (soft copy in some cases)