Envig BWASaver (Boil Water Advisory Saver) Kitchen Water Purification with UVC LED Purifier and Ultrafiltration
Envig boil water advisory bundle will allow you continue to use your tap water as usual when your city is underdevastating boil water notice/advisory. You don't need to change your routines in kitchen water use. Your daily life will keep going without interruption. 
Regular price
$479.00 USD
Regular price
Sale price
$479.00 USD
Unit price
per
Sale
Sold out
Powerful protection against bacteria (i.e. E. Coli) contamination
PP sediment shell removes sediments from city's water main break-down
Sediment filter blocks sediments and particulates, which usually will be an issue when the city's water main is broken or under repair. It also prepares the water for UV irradiation as bacteria can be hidden behind particulates and spare from UV disinfection if not filtered.
Powerful signature catalytic carbon removes chlorine and chloramine
Our highly effective signature catalytic carbon will remove the excessively dosed chlorine or chloramine your city water authority may put in the water to combat the health hazard.
Bacteria removal capability from ultrafiltration and ultraviolet safeguard your water
With ultrafiltration, any bacteria and virus larger than 0.01 micron (E. Coli and many other pathogens) are removed. Ultrafiltration will further remove any small particulates that PP sediment shell left behind. At the ultraviolet stage, our powerful 280 mw UV-LED purifier will simply inactivate any remaining pathogen in water. You can now safely enjoy your water as usual.
280mW UV LED Purifier
The UVC LED inline filter is used for main kitchen water supply line, RV or boat fresh water, protecting your daily water use for food preparation and drinking. At 280mW, the UVC LED disinfection kills 99.99% of bacteria and virus like E. Coli, H1N1, etc. The indicator on the module will give you the peace of mind about the working status of the disinfection, which will function only when water is running through, promising a long lasting life of usage. The disinfection is instantly working at its full efficacy when it is turn on, due to the benefit of using LED lights instead of traditional mercury light.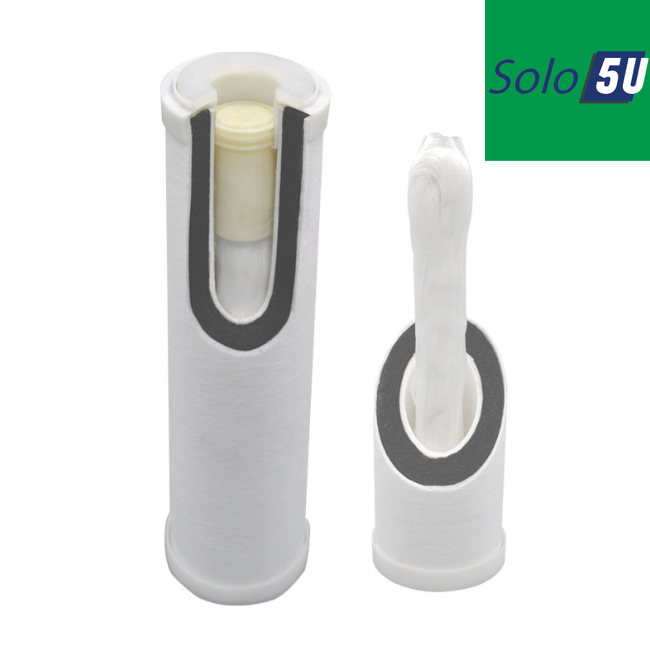 5U Ultrafiltration Composite Filter
Envig 5U composite filter has multiple layers of effective filtration: two stages of sediment filter block sediments and particulates; signature carbon media will remove chlorine or chloramine ; ultrafiltration will remove any small particulates, as well as any organic or inorganic contaminants as small as 0.01 micron. All the filtration happens in one composite filter cartridge before UV purification.
Design for Convenience
Small Footprint

With UV LED purifier and composite filter, this system achieves powerful filtration and purification effects with only a mall footprint that can easily place in your kitchen's undersink cabinet, RV, boat, or any place that does not have space for a big system.

Easy Connection

With the provided braided hose and all the fitting adaptors, you can easily connect the system with your existing 3/8" compression fittings on your kitchen water supply. The braided hoses allow you to place the filter and purifier separately in your undersink cabinet at locations easy for installation and access.

Fast Flow

At 2.11 gallon flow rate, the system will allow you continue to use your tap water as usual for drinking and washing without the need to change your routines in kitchen water use. Your important daily life will keep going without interruption. (image for illustration purpose)
Use where it mattters
Boil Water Advisory

RV Drinking Water

Boat Fresh Water

Daily Kitchen Use